Our conference organizer partner, Tensi Congress, has managed to secure reduced rates in a number of hotels for conference guests and accompanying persons. You will be able to book rooms in the registration system in any of the hotels listed below. Both single and double rooms are available.

Prices are per room per night and are subject to availability. Prices include breakfast and all taxes. Prices may change later, for current prices and availability please check the registration system. Rooms may be booked through the registration system either at the time of the registration or later. 
We would like to inform all participants, that a major event, with over 15.000 expected participants will take place right after our conference. We suggest booking your accomodation early!
Discounted hotel booking on registration page of ISC'6
Novotel Budapest City**** (Conference Venue) Book here
4* hotel adjonoing the Conference Center, allowing you to walk to the conference roomw withour leaving the building, is on the Buda side of the Danube at Novotel Budapest City, 20 minutes walk from the castle and only 10 minutes from the downtown by public transportation. Breakfast with local specialities in the sunlit restaurant or under the trees on the terrace gets your day off to a bright start. Unwind after a day of sightseeing in your airy, modern room at Novotel. Free WiFi is available in the entire Hotel. 
Mercure Budapest Buda**** Book here

Centrally located, 4-star Hotel Mercure Budapest Buda, 5 minute walk through a nice park from the Castle District, 4 metro stations from the city center (Deák tér station), direct access to public transport (Deli pu. station). Easy to reach from M1/M7 motorway. Hotel Mercure Budapest Buda is perfect for a weekend or business travel. Conference capacity of up to 300 persons. FREE WIFI, Privilege floor, two restaurants, lobby bar, souvenir shops, friendly staff.
Hotel Mercure Budapest Buda is located in the neighbourhood of the historical Castle District. Walking and shopping district of the city can be reached in some minutes.
Distance to venue:
Jagelló Business Hotel*** is ideally placed within the Budapest business district on the Buda-side of the Hungarian capital. It lies close to the Budapest Congress and World Trade Center and is easily accessible for guests travelling from Vienna and Croatia, on the M1 and M7 motorways.
Jagello Business Hotel is a cute family owned hotel, where personal attention is not just an empty slogan, but a real and warm hearted commitment to the guests. The modern, functional and comfortable business hotel – with no more than 28 air conditioned rooms – is anything else than an anonymous place full of standardized services without any personal attention. At the spacious and cozy garden, which almost gives you the feeling of being in the countryside, guests can chill out after an intense Budapest day. The hotel is perfectly located at the Western gateway to the city center. By public bus or taxi you can reach the city center easily within 15 minutes.
Distance to venue:
IBIS STYLES Budapest Citywest*** Book here

IBIS STYLES Budapest Citywest is located at the western gate of Budapest. The hotel offers very easy access from the motorway M1 and M7. The Kelenföld railway and subway station is located nearby. Our hotel is an ideal place both for business and leisure tourists. You will be welcomed by the modern interiors with elements of pop-art style, designed by a famous, contemporary artist Peter Weiler. Inspire yourself with the uniqueness of the city and look for all the surprises that await you.
Distance to venue:
Gold Hotel Budapest is a family run hotel in the center of Budapest.
Gold Hotel Apartments is in an annex building offering 2-bedroom serviced apartments and self catering rent a flat services in a quite, convenient location.
Friendly and helpful multilingual staff helps you to arrange your perfect stay in Budapest.
Buffet breakfast is at your service.
Distance to venue:
Hotel Mediterran**** Book here

The hotel is rated 4 stars by the Hotel Association of Hungary. The hotel has excellent location, it is 2 km from city centre with great public transport connection. Hotel Mediterran is only 500 meters from the venue of the conference, Budapest Congress Centre.
Everyone can feel at home in the friendly, mediterranean style rooms. The area of our standard rooms are 20 sqm, whilst superior rooms are 25 sqm. All rooms have ensuite bathroom of which there are 36 with bathtub and 4 with shower. 100% of the rooms are non-smoking.
Distance to venue:
Danubius Hotel Flamenco**** Book here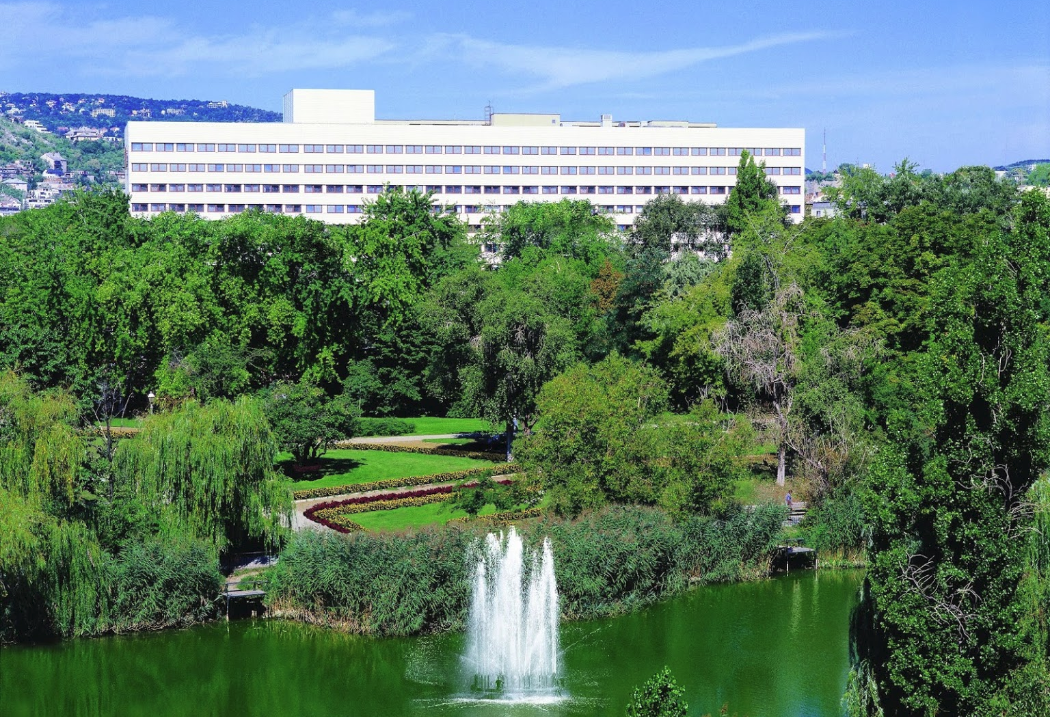 Hotel Flamenco offers something rare - accomodation close to the centre of Budapest yet sorrounded by beautiful parkland. This four-star hotel near the so-called "Bottomless Lake" in Budapest's 11th disctrict has its own garage and rooftop car park, although it is also easily accessible by public transport with metro, bus and tram stops a short walk away.
At Danubius Hotel Flamenco everybody pays great attention to protecting the environment. Flamenco is proud to be an "Evergreen Hotel", a title awarded to the most environmentally friendly establishments.
Distance to venue: